05/16/19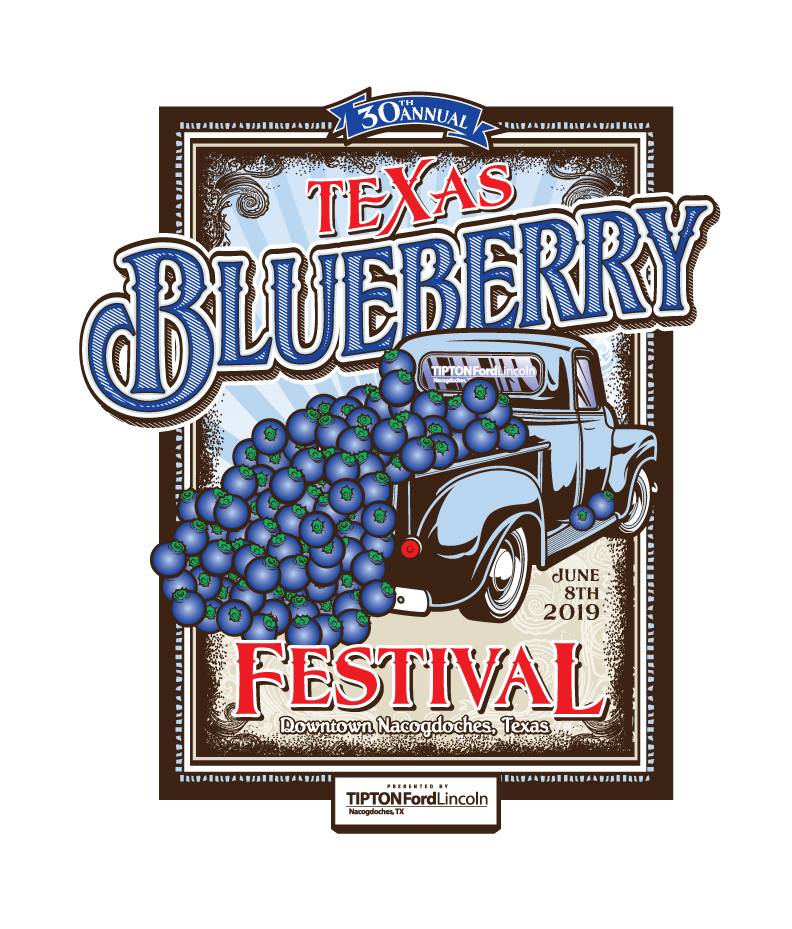 Itinerary for the Texas Blueberry Festival on June 8th!
NEW! Ford NASCAR Experience - Expect some revved up fun! Find the racing simulator near the E. Main St. and Mound St. intersection, across from Cowboy Jack's Saloon, 8 a.m. to 4 p.m
Hug a Hero! Thank those that serve you every day. - Local fire and safety, first responders, veterans, nurses and community leaders will be at the Tipton Ford-Lincoln Photo Booth in front of the downtown Visitors Center. Stop by and personally express appreciation for their service! See the Blueberry Festival Ford F1 there, too!
NEW! Blueberry Penny Press - Make and take blueberry-themed pressed pennies. Choose from four designs! Located in front of the downtown Visitors Center and near the Hug a Hero booth.
Blueberry Pancake Breakfast - 8 a.m. until gone! The Kiwanis club makes the best! On the square at Pecan and Main streets, $6/plate.
Fresh blueberries for sale - Texas-grown blueberries sold by our friends at Brookshire Brothers on the square near City Hall from 8 a.m. to 4 p.m. or until they're gone!
Pickin' on the Square. - 11 a.m. to 2 p.m. Tap your toes to a variety of bluegrass tunes at two downtown locations: City Council Chambers in City Hall and Regions Bank Community Room. All musicians are encouraged to bring their instruments and jam with new friends in air-conditioned comfort!
True Blue Pet Parade - Registration begins at 9:30 a.m. at Mound St. and Main St. near Rees Jewelry. Parade begins at 10 a.m.
Blueberry Farm Pick and Peek - Free shuttles to the Blueberry Place every ten minutes from 8 a.m. to 2 p.m. $1.50 a pound, pick your own berries fresh from the bush. The ride is free!
Regions Soda & Sweet Shoppe - 9 a.m. to 3 p.m. Regions Bank Lobby. Sweet treats in a '50s setting. Be there, don't be square!
Cookin' Up the Blues - Watch Chef Earl whip up delicious dishes with the blue super fruit in the CBTx lobby at 11 a.m. and 1:30 p.m.
NEW LOCATION! Vehicle Funcase Car Show - View sweet rides! Find the car show in Festival Park. Open from 8 a.m. to 4 p.m.
Found Footage: Rediscovering Nacogdoches - (the Nacogdoches 1938 film) screenings at 10 a.m. and 2 p.m. in the Cole Art Center gallery. Plus, view the 25th Texas National exhibit!
NEW! A Visit with Daisy Wettermark - wife of Col. Benjamin Wettermark, the most trusted man in Nacogdoches until 1903 when he robbed his own bank and left his wife, his children and his mansion behind. Author Linda Bond portrays Mrs. Wettermark at 12:30 p.m. in the CBTx lobby. She will also be signing her book "Saving the Oldest Town in Texas" at The Bosslight at 123 E. Main St. during the festival.
NEW! Blue Brrrrrry Dunking Booth - Open from 8 a.m. to 3 p.m. at the intersection of Pecan and Pilar streets.
Vendors & Main Street Merchant Shopping - Find food, activities, hand-crafted items and much more!
Competitions
Running of the Blueberries 5K Run/Walk - 7:30 a.m. at Coy Simms Softball Fields, 801 Martin Luther King Jr. Blvd. Sponsored by Pilgrim's.
Blueberry Cupcake Battle - Entries due at Visitors Center by 10:30 a.m., with judging at 11 a.m. First place winners will receive a prize in the following categories: Amateur Bakers age 8-12, age 13-17 and adult; and Professional Bakers of all ages!
Blue Washer Board Tournament - Festival Park. Registration due by June 5 at City Recreation Center.
Paul Kendrick Memorial 42 Tourney - Commercial Bank of Texas Community Room, second floor. Registration begins at 7:30 a.m. Sponsored by Harry's Building Materials, Inc. and Lexington Place Nursing & Rehabilitation Center.
Blue Pies Smiling at Me Pie Eating Contest - Multiple contests for children and adults beginning at 10 a.m. in front of City Hall. No fee to participate - come hungry, leave messy!
Mr. & Miss Blueberry Pageant - See the pageant winners on the Visitor Center's Plaza Principal stage after the pageant concludes.
Find contest registration information and rules at TexasBlueberryFestival.com
Kids Activities
in Festival Park, south of the brick streets
Kids Splash & Bounce Park
Kids KSWP/KAVX Obstacle Course
Cool Zone cool down with misters, fans and cold bottled water.
and much more - petting zoo, pony and train rides, trampoline jump!